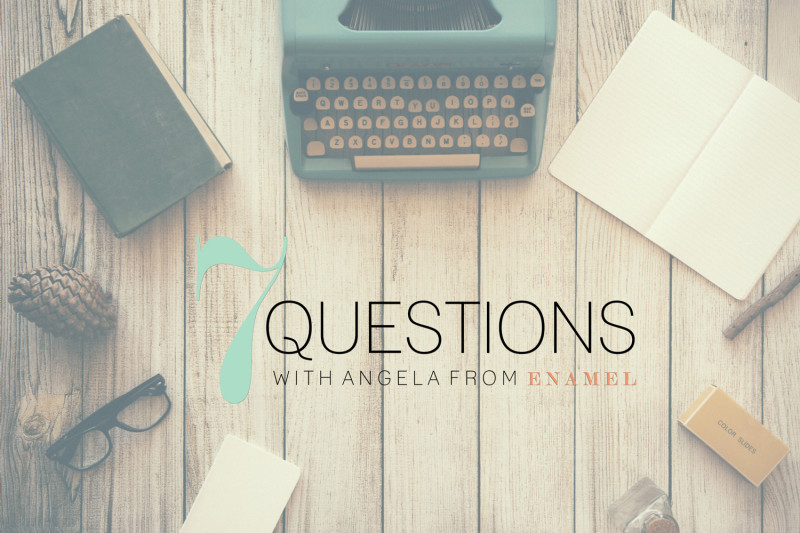 Welcome to the first installment of 7 Questions!  The goal of this series is to present a range of business owners and creatives with 7 questions that provide insight into their process, an understanding into how they reach their goals, and get some advice on how any business can grow.  For the first interview, I'm so happy to have Angela Malchionno of Enamel, an amazingly talented artists and entrepreneur.
Angela Malchionno of Enamel is an artist & maker with a terrific aesthetic for stylishly urban yet functional, well-made products. Her current focus has been on hand dyed cord made into vessels – each, one of kind and special. Then, there are her textiles that have been hand painted or dyed in the Japanese technique known as Shibori. These become pillows, bags of all shapes & sizes, scarves, wall hangings, men's pocket squares and the list goes on.
When did you decide to start your business and what were some of the early challenges?
I started Enamel about a year and a half ago. At the time, my teaching load shifted and I was underemployed. I wanted to see if I could succeed at making a studio run – one that followed a similar path as some businesses I'd seen out in the world, but differed from the professional path of an academic. This was where my focus had been for about ten years previously: academia. I faced so many challenges initially. I started out with a partner that eventually decided to leave the project, and I struggled a lot with defining what Enamel is. Most of the time, in the beginning, I felt overwhelmed and uncertain, but I believed it was important to show up everyday. Another thing is that I started my business without any sort of safety net. I listen to a lot of podcasts and read articles about the "right" way to quit your job and do what you love…most of those involve saving for a year then quitting and running with a solid business plan. I did the total opposite! My partner and I are both freelance, so supporting a new venture was stressful for us financially and emotionally.
As your business became more established, did your marketing strategy change? How did you keep old customers coming back and new ones coming in?
I've work very hard to craft what I call the "voice" of the studio – which I suppose is your brand identity or something similar. I wanted very much to have a certain feeling of being included, of crafting a space where people feel their creativity is valid but are challenged and informed about the realities of making. My marketing strategy focuses on communicating this voice over social media, specifically, Instagram and Facebook. Using hashtags that pertain just to student projects, posting well-lit curated photos, these are definitely things I do. I think that this is a common strategy – but I try to balance the appearance of being too put together with honesty and vulnerability. I think this communicates a sincerity that people are drawn to, so hopefully they see that yes, you want to be professional and make a living, but there is a person behind this making messes and wrangling a studio dog!
As Enamel became more established, I sought out out ways to partner with organizations and individuals that support this outlook, and found that this brought new people to the space. I have several people who have taken just about every class at our studio, and I find ways to connect with them personally so they feel it's worth it for them to keep coming back, but at the same time make newcomers feel welcome.
What accomplishments related to your business are you most proud of?
I'm very proud that the studio has become a hub of creativity that allows makers to teach their craft and students to learn from talented people. This community is something we took for granted in school or maybe lack in our day to day lives, and I am really excited to be a facilitator of it. I also just started selling items wholesale, and for me this marked a milestone success-wise.
When did you start feeling like your business was a success?
Recently I had a friend bring her friend by the studio. She lives in Queens, and follows us on Instagram. When she made plans to visit St. Louis, she said, "Hey, isn't Enamel there? I'd like to check it out!" I feel like there are so many cities that I visit and seek out places I want to see, so when this happened at the studio I was so psyched! I felt like people know what I'm doing, and I also felt it was a great vote for the city, which is a huge plus. So, I think for me success is really centered around community: whose lives I impacted, the people the studio brings together, and hopefully the experiences people share beyond the space.
How do you keep the creative momentum going?
I work at it everyday. Seriously. In some form or another. I research, take pictures and screenshots of things that inspire me, sign on for projects and events that challenge and inspire me. I try to write everything down, even if I'm not sure if it's ever going to be valuable or make sense. I send emails on Friday nights. I'm a little nuts. But I figured out that we live in a time where we have access to so much knowledge you can teach yourself pretty much anything or at least get a sense for how others do it. I guess I stay creative by always having one new thing to figure out – and this keeps me headed to the studio day after day.
If you had one piece of advice for people who want to start their own creative business what would it be?
This quote by Ira Glass is my mantra, because I feel even if you have all the money and time in the world, if you can't accept this truth about creative work, you won't succeed.
Nobody tells this to people who are beginners, I wish someone told me. All of us who do creative work, we get into it because we have good taste. But there is this gap. For the first couple years you make stuff, it's just not that good. It's trying to be good, it has potential, but it's not. But your taste, the thing that got you into the game, is still killer. And your taste is why your work disappoints you. A lot of people never get past this phase, they quit. Most people I know who do interesting, creative work went through years of this. We know our work doesn't have this special thing that we want it to have. We all go through this. And if you are just starting out or you are still in this phase, you gotta know its normal and the most important thing you can do is do a lot of work. Put yourself on a deadline so that every week you will finish one story. It is only by going through a volume of work that you will close that gap, and your work will be as good as your ambitions. And I took longer to figure out how to do this than anyone I've ever met. It's gonna take awhile. It's normal to take awhile. You've just gotta fight your way through. – Ira Glass
What's one piece of advice or knowledge you wish you had before starting your business?
This is so cheesy, but I wish someone had told me that where you start isn't where you end up, and that's totally fine. When I started, I had so many plans about what was going to happen and what the space would be. I wish someone had said you'll be somewhere totally different a year from now, but don't worry about it in the meantime. You'll be so excited when you get there.
If you're in STL please consider stopping by Enamel!  A million thanks to Angela for sharing her creative strategies, photos,  and being great to work with!
*ALL PHOTOS FEATURED FOR ANGELA'S INTERVIEW WERE USED WITH PERMISSION C/O ANGELA + ENAMEL STUDIO